In Living

Colour
These bespoke pieces reflect my obsession with colour. Colour elevates us and in Ireland we live under a grey sky for the greater part of the year. Our houses and buildings are traditionally painted white or brighter colours. I believe this is in an attempt to uplift us especially against our dreary, grey skies.
I've created these pieces for us to have fun with jewellery. All are a mixture of contemporary materials and precious metals in geometric shapes and alternative finishes. Think Bjork!!  
I also love working with clients on a design they have in mind. Commissions are a wonderful opportunity to really personalise your jewellery and really make your pieces extra special. Just get in touch and let's collaborate!
Geometric 3D Shapes Pendant
From $278.00
My love of geometric shapes and alternative materials comes alive in this 3D piece.
The idea behind this pendant is that...
VIEW PRODUCT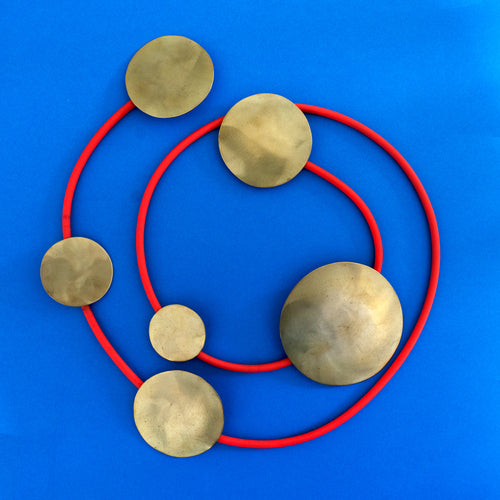 Hanging Moons Pendant Necklace
From $345.00
Feeling very in tune with my femininity and closeness to nature, I really wanted to...
VIEW PRODUCT
Space Cindy Pendant Necklace
From $500.00
This is a super fun piece in transparent hot pink perspex, really inspired by the...
VIEW PRODUCT